Software Science Dashboard: the key to driving Windows! This is the high powered, convenient utility that speeds up all your work with Windows. Dashboard gives you convenient push-button control over everything you do in Windows. Dashboard is an onscreen set of buttons and icons for working with Windows quickly. You can launch programs from Dashboard with just the click of a button. No more fiddling around on the desktop or trying to jam all your favorite applications on the task tray. From now on, you have Dashboard:





You get to customize and configure Dashboard anyway you like--your own groups (tabs) and your own items within those groups. In the order you like and with the icon you prefer. The configuration interface to maintain your groups and items is easy to learn and use: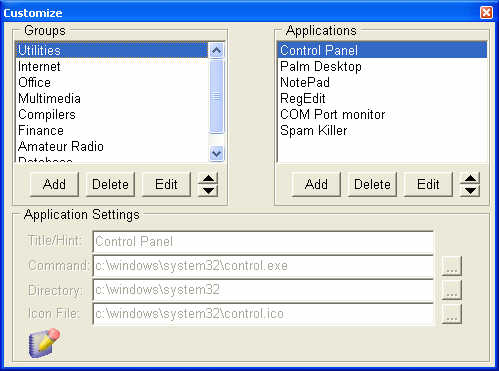 In just a few minutes after downloading your copy of Dashboard, you'll be taking charge of your computer. Put a link to dash.exe in your startup directory, and the Dashboard will be ready to go for you everytime you boot your computer.

Want to know more about Dashboard? Download the User's Manual for a complete description of Dashboard, screen shots, and step by step instructions for installation, configuration, and use.

Ready to try it out? Click here.

Current version: 1.0